Bankruptcy filing for Peninsula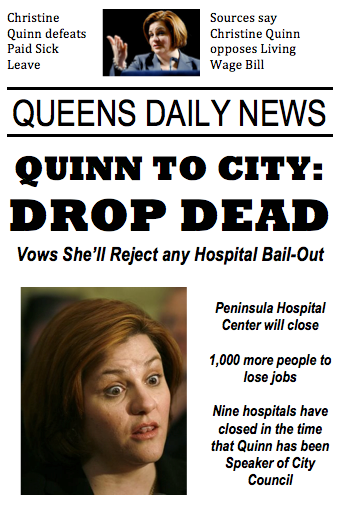 From Crain's :
Peninsula Hospital and its affiliate, Peninsula General Nursing Home Corp. — which does business as Peninsula Center for Extended Care & Rehabilitation — filed for Chapter 11 bankruptcy protection on Monday. They listed total assets of $34.6 million and liabilities of $70.8 million, as of May 31.

Peninsula recently struck a deal to be managed by an affiliate of Revival Home Health Care, which provided an $8 million line of credit. The bankruptcy was a condition of the transaction. The filing indicates that during the bankruptcy, the hospital and nursing home will not change their current nonprofit status.

Todd Miller, Peninsula's chief restructuring officer as of Sept. 1, said in his affidavit that Peninsula would break even or become profitable "through a change in culture, marketing strategies and by feeding off synergies with Revival's related businesses." He added that "with a new management team and fresh capital," Peninsula can boost revenue by attracting patients who now only use the hospital for emergency care.

Mr. Miller said new management would try to tempt residents with new offerings of cardiac services, more surgery capabilities and improved oncology services. He said Revival management believes "neither the hospital nor the nursing home were aggressively managed in recent years and that implementation of new procedures will result in significant savings as well as increased revenues."

To boost revenue, the hospital is recruiting a new case manager who will tackle the institution's higher-than-average length of stay. Mr. Miller also said the hospital was building new relationships with home care agencies and nursing homes to more quickly obtain placement for its patients.

The Revival team also is targeting purchasing and maintenance procedures, which it labeled "inefficient." Added Mr. Miller: "Properly managing these procedures and vendor relationships will generate significant savings."

Peninsula signed an engagement letter with Alvarez & Marsal on Aug. 29 for the firm to provide the hospital with consulting, restructuring and financial advisory services at an initial cost of $160,000.

Peninsula's payroll obligations, excluding benefits, for the 30 days following the filing are $3.6 million, with $2.77 million in payroll for the hospital and the rest for the nursing home. The hospital employs 134 doctors, four administrators and 551 other workers. The nursing home employs two doctors, two administrators, 36 registered nurses and 207 other workers.