Bribes Versus Political Campaign Donations : Who Decides When Money Corrupts The Healthcare System Of New York State ?
Healthcare activists, who are fighting for a restoration of a new Level 1 Trauma Center and full-servi e hospital to replace St. Vincent's, are discovering that the larger healthcare system across New York State is broken. Here's how.
Activists are beginning to demand a single-payer healthcare system in New York to put an end to the constant healthcare cuts, layoffs, hospital closings, and corruption that is endemic in the state's broken healthcare system. Just this year alone, witness the bribery cases against MediSys chief executive David P. Rosen and New York State Senator Carl Kruger, each of whom were involved in hospital-related corruption. Two other state assemblymen, William F. Boyland, Jr., of Brooklyn and Anthony S. Seminerio of Queens, are also implicated, according to The New York Times.
The Rudin family head a lobbying group that calls itself the Association for a Better New York. They use it as political cover to portray their billion-dollar real estate deals as "civic-minded" projects. There's nothing "civic" about closing a hospital in order to convert it to luxury condos. Bill Rudin is just another modern-day "Robber Baron."
In respect of the shady closing of St. Vincent's Hospital, our politicians have failed to restore a full-service hospital. Instead, politicians want to replace St. Vincent's with an urgent care center. This is a Band-Aid approach to healthcare, and it is unacceptable !
In spite of the corruption that exists in the state funding of hospitals, operatives for Billionaire Bill Rudin claim that Mr. Rudin owes the public nothing in terms of private support, to make up for lack of public funding to support a replacement hospital for St. Vincent's. There are resources available : Go to Wikipedia, and look up the Hill-Burton Act, which provides federal grants and guaranteed loans to improve the nation's hospital system. Money was designated to states to achieve 4.5 beds per 1,000 people.
Did Christine Quinn Give Up On Saving St. Vincent's In Exchange for Campaign Donations From The Rudin Family ?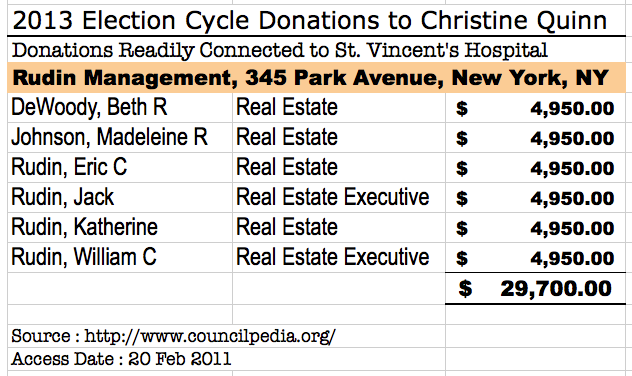 In an apparent conflict of interest, Beth R. DeWoody, Madeleine R. Johnson, Eric C. Rudin, Jack Rudin, Katherine Rudin, and William C. Rudin each donated $4,950 to Christine Quinn's presumed 2013 mayoral campaign. During this time, the Rudin family has been trying to salvage a multi-million dollar real estate purchase of the buildings that belong to the bankruptcy estate of St. Vincent's Hospital. Since the Rudin family wants to build luxury high-rise condos on the site of St. Vincent's, do these large campaign donations explain why Speaker Quinn has done nothing to restore a hospital to the former St. Vincent's site ?
At what point do bribes mix-and-match with political campaign contributions ?
Quid Pro Quo : After City Council Speaker Christine Quinn renames the Queensboro Bridge after former Mayor Ed Koch, the former mayor all of a sudden turns up as the temp-to-hire chairman of an astroturf-front group being paid for by the Rudin family, not unlike evil Wisconsin front groups that are union-busters.
In a brilliant YouTube video, the artist and political commentator Suzannah B. Troy compares former mayor Ed Koch to Snooki, seeing as how each celebrity can be hired to show up at night club parties -- or at luxury condo conversions of St. Vincent's Hospital -- if the price is right.
If you haven't yet checked it out, look at how the Rudin family has already managed to rent Christine Quinn.