Christine Quinn Betrays LGBT - Celebrates Cardinal-Designate and LGBT Hater Timothy Dolan
As usual, openly out lesbian New York City Council Christine Quinn has sold out the LGBT community in New York City in exchange for political electability. Last week, Speaker Quinn made congratulatory comments about Archbishop Timothy Dolan's promotion to the position of Cardinal within the Roman Catholic Church, even though His Grace the Archbishop vocally and actively opposed the passage of marriage equality in New York State last year. No wonder that based on Speaker Quinn's lack of integrity on very basic issues, she has been described as "standard political flimflam."
While Archbishop Dolan's promotion to join the
College of Cardinals
was not a surprise, to The New York Times, let's say, neither should have been how quickly Speaker Quinn betrayed the LGBT community by her expressions of support for Archbishop Dolan.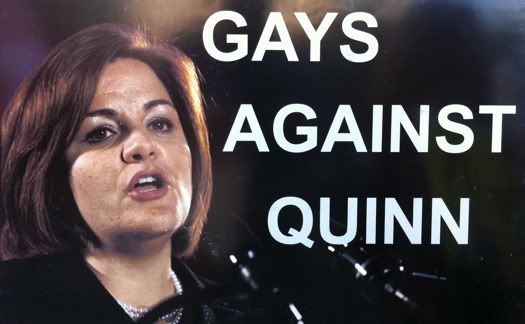 What measurable, real, and tangible actions have openly lesbian City Council Speaker Christine Quinn taken in respect of LGBT civil rights ?
Let's examine the following further examples of LGBT civil rights violations, to which City Council Speaker Christine Quinn, a high-profile openly lesbian politician, has been spineless in her response :
With an LGBT record like this, LGBTQS New Yorkers would do good to question Speaker Quinn's integrity and commitment to LGBT civil rights.