When both Anthony Weiner and Christine Quinn were the front-running mayoral candidates, the Rudin Family made sizable campaign donations.
Do the Rudin Family's $70,000 in political donations to Christine Quinn, Peter Vallone, and Anthony Weiner constitute a corrupt effort to make sure that the Family gets approval for their controversial luxury condo conversion of St. Vincent's Hospital ?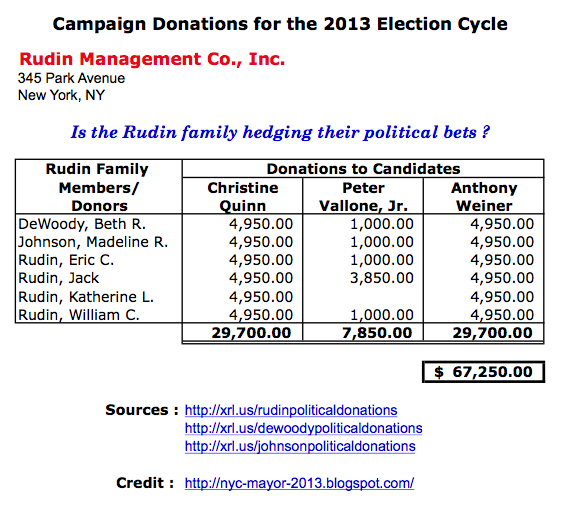 The Family's equal total donations to each of former Congressman Weiner and Speaker Quinn were calculating, because now that Mr. Weiner is out of the mayoral race, they had a Plan B in Speaker Quinn.
Councilmember Vallone is chair of the Public Safety Committee : now, there will likely be no councilmember, who will be allowed to speak out to the irresponsible public health aspect of closing charity hospitals, privatising their real estate, and doing nothing as luxury condos are built on the former site of St. Vincent's Hospital.
You can confirm the sources of the funding from these links : (i) Eric C. Rudin, Jack Rudin, Katherine L. Rudin, and William C. ("Bill") Rudin ; (ii) Beth R. DeWoody ; and (iii) Madeline R. Johnson.
The Rudin family has spent almost $70,000 in political donations, and another $500,000 in lobbying expenses -- all in a desperate attempt to get approval for the luxury condo conversion scheme for St. Vincent's, because there is profit that is valued in the hundreds of millions of dollars at stake.