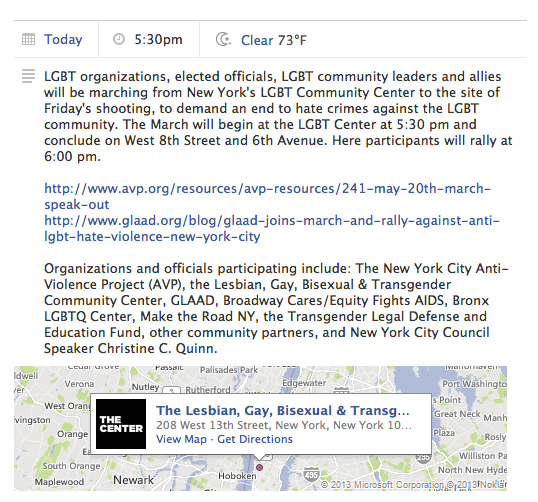 From The Village Voice :
"... the prospect of Quinn's active participation in the march provoked a sort of counter-protest by a small contingent of activists who are unimpressed with Quinn's record. As the main rally moved south on Greenwich Avenue, marchers passed a tiny contingent of activists holding up a sign on the island intersection at Seventh Avenue. 'We need a hospital, we don't need condos,' it read. The side-vigil raised the question of why Carson was taken to Beth Israel, on First Avenue, and whether he could have been saved if he was treated nearby. The handful of activists standing in the shadow of the building that used to be St. Vincent's Hospital, now being converted into 350 luxury condo units, criticized Quinn for signing off on the zoning change that made this development possible, even though the City Council speaker's brand had been stamped all over the larger march itself."
Did New York City Council Speaker Christine Quinn cancel her planned political exploitation of Monday night's Mark Carson vigil, after The Village Voice and Michael Petrelis exposed these concerns ?
Speaker Quinn has a history of exploiting tragedy for political gain.
Earlier this year, after former mayor Ed Koch passed away, Speaker Quinn's campaign staff were trying to figure out how to exploit Mayor Koch's endorsement of Speaker Quinn's mayoral campaign, even after he had died -- and he was no longer around to approve of the campaign's messaging.
And in 1998, while she was in her first political campaign to be elected to the City Council, Ms. Quinn was using a spike in bias crimes against the LGBTQ community as an excuse to call for canceling that year's annual Greenwich Village Halloween Parade.
SIDEBAR : Please watch this video, which I just discovered this morning, which explains why it might be more accurate to describe the discrimination against the LGBTQ community as "heterosexual-supremacy" instead of using the term "homophobia."