Is Christine Quinn Just An Old-Fashioned, Cigar-Chomping Political Boss ?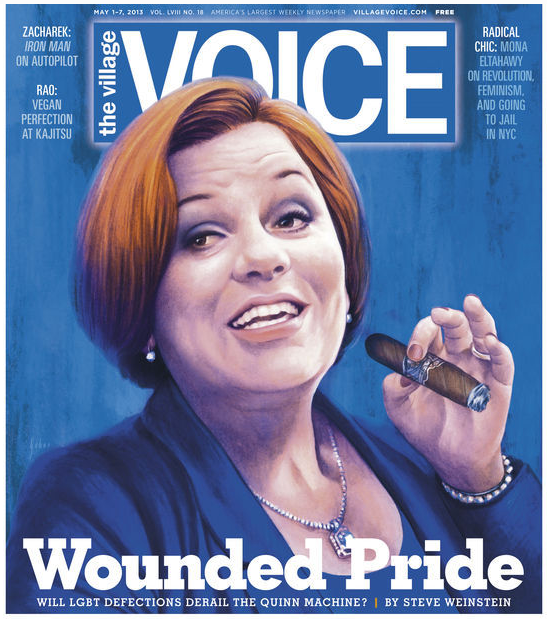 The stop-and-frisk narrative from The Village Voice : "LGBT Purists to Christine Quinn: We'd Love a Gay Mayor. Just Not You."
... Gay men of color are just as affected by stop-and-frisk as anyone else, notes Fordham University political science professor Christina Greer. "Even though the face of the LGBT community in New York City is white men, that's not the makeup," she says. "If you're black and gay, stop-and-frisk may be a primary issue." Unlike her three Democratic rivals, Bill de Blasio, John Liu, and Bill Thompson, Quinn has refused to make a blanket condemnation of stop-and-frisk.

Then there's condom-carry, an issue particularly troubling to those fighting the ongoing AIDS epidemic. As the Voice has reported, the city vigorously supports and promotes condoms through the Department of Health, but allows police to arrest alleged prostitutes found to be carrying them. Transgender women complain that the NYPD targets them simply because of the way they're dressed. Quinn reportedly sent staffers to a key meeting on the issue instead of attending herself.

... On stop-and-frisk, Quinn doesn't have the luxury of simply disregarding city policy, Duane insists. "She has to work under the policies the mayor has set," he says, "or she'd have to resign." Quinn has instead advocated for changes in police training and for the appointment of an inspector general to monitor the NYPD. Such a diplomatic solution doesn't satisfy critics like Flores. "If Christine Quinn was the head of AVP today, she would be fighting [stop-and-frisk]," he says. Quinn did make one major concession last week when she agreed to allow a council vote on allowing victims of racial profiling to sue the NYPD—the first time she hasn't blocked a bill that she opposes.

On condom-carry, Quinn certainly doesn't equivocate. "Condoms being found on somebody and used against them should be changed," she says. "If I have the power to make direct changes, I will. We need to encourage safe sex. Whether for money or not, we cannot talk out of both sides of our mouths. ...
This article may be perhaps the first time when Speaker Quinn publicly addresses the issue that the NYPD are arresting LGBT New Yorkers for carrying condoms. But her talk is cheap, as activists have learned -- the hard way.
Let's see what Speaker Quinn actually does about the way the NYPD profiles, stops-and-frisks, targets, and falsely arrests LGBT New Yorkers ?
Let's let her actual record -- of what she delivers -- to be the final judgment of her political record.