Christine Quinn Was A No-Show At LGBTQ Rally
At Thursday's rally by LGBTQ groups outside the U.S. District Courthouse at 500 Pearl Street, where the Floyd v. City of New York class-action, stop-and-frisk trial was in progress, only one mayoral candidate showed up to express solidarity -- and to renew a call for an end to stop-and-frisk. And it wasn't Christine Quinn.
Thank you, John Liu, for showing leadership, courage, and solidarity with the LGBTQ community.
Maybe New York City Council Speaker Christine Quinn has not been able to hear the pleas from the LGBTQ community, because her office is soundproofed ?
During Michael Bloomberg's three terms as mayor, over 5 million New Yorkers have been stopped and frisked. During the over-lapping time that Christine Quinn has been Speaker of the City Council, over 3.9 million New Yorkers have been stopped and frisked.
Many politicians act powerless in the face of the NYPD's use of brutality, discrimination, and excessive force, but the members of the City Council, which each year approve the NYPD budget, simply rubber stamp Mayor Michael Bloomberg's attack on due process, the Bill of Rights, other civil rights, and civil liberties. If the City Council actually stood up to the mayor in the budget process, then maybe the City Council could legislate change without having to use the court system, like what is happening right now in the Floyd trial, a lawsuit that is challenging the NYPD's unconstitutional stop-and-frisk practices.
The description at Thursday's rally by members of various LGBTQ groups of how the NYPD target, harass, and even falsely arrest LGBTQ New Yorkers was tragic, and the pleas for help were compelling. But one must wonder why Speaker Quinn was absent from the rally, why Speaker Quinn did not express solidarity with the LTGBQ community's efforts to end stop-and-frisk, and why the Floyd trial was being used as a backdrop for this demonstration ?
Because so many non-profits took part in Thursday's rally, one must wonder if an explanation of the lock-step could not be found in a demand for an election year political favour ? We know that how Mayor Bloomberg and Speaker Quinn manufacture political patronage support is by making private donations or distributing discretionary City Council funds, respectively. Were the members of the LGBTQ groups manipulated into showing up outside the Floyd trial in order to distract from the fact that Speaker Quinn supports stop-and-frisk and has expressed her desire to continue NYPD Commish Ray Kelly's policies of harassment, profiling, discrimination, and brutality ?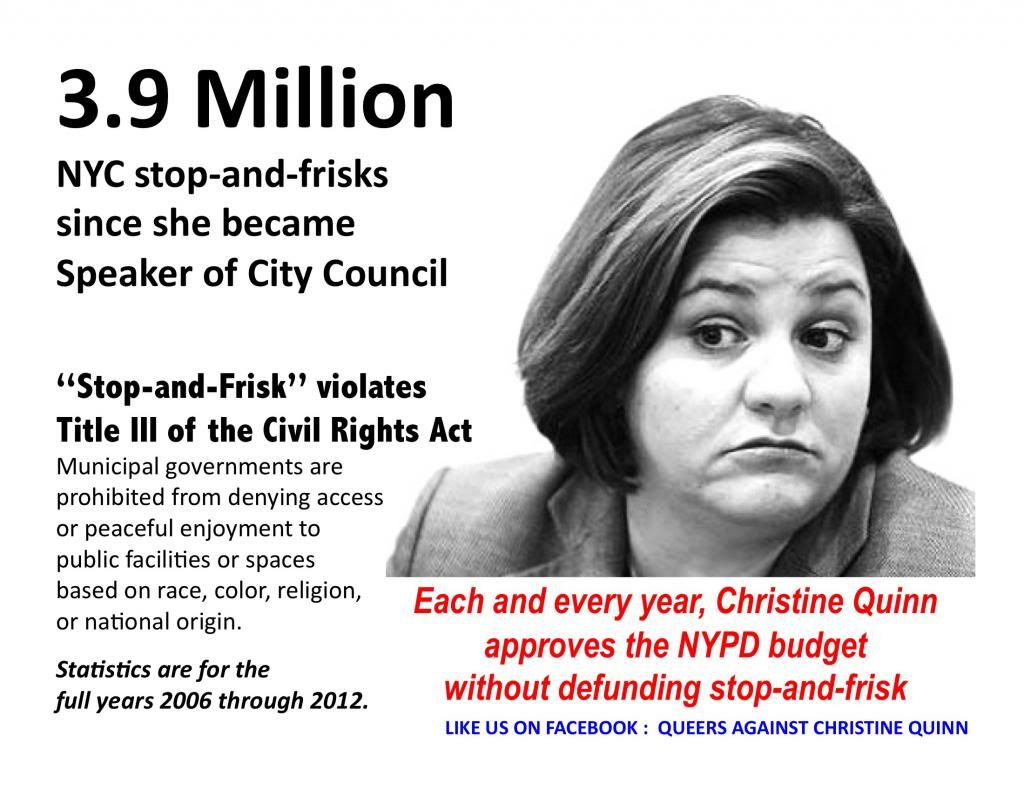 Indeed, last December, activists in Jackson Heights organised a demonstration to highlight Speaker Quinn's failure to end stop-and-frisk. Speaker Quinn is a high-profile LGBT leader, but she turns her back on LGBTQ New Yorkers, who are deliberately profiled and targeted for harassment and arrest by the NYPD, said activists during last December's demonstration.